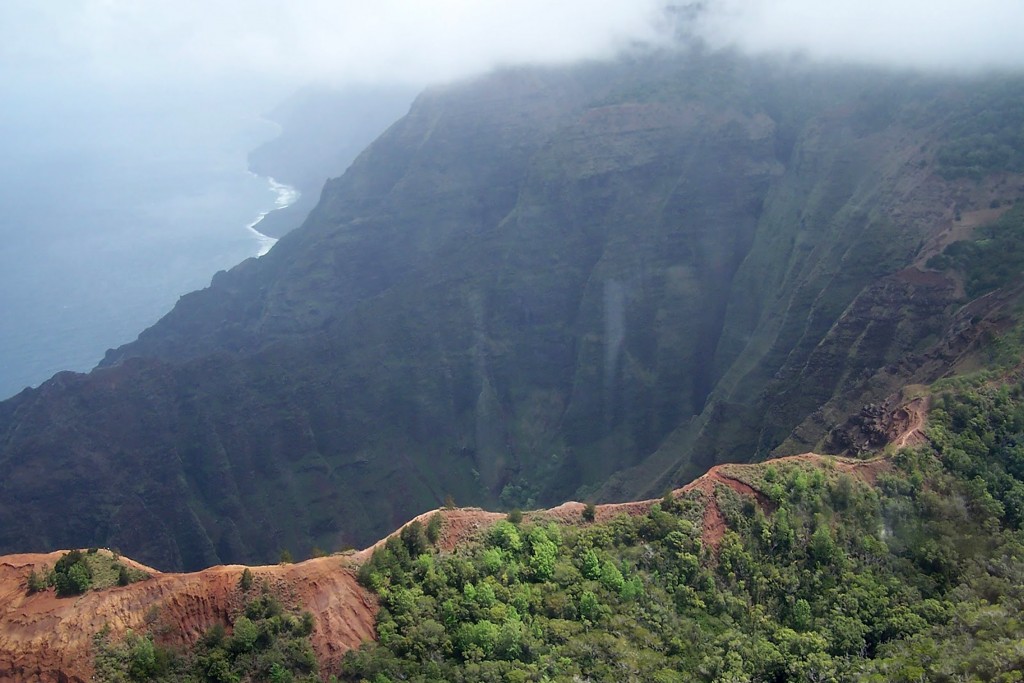 The Kalepa Ridge Trial is an infrequently used unofficial trail that leads downhill from Kalalau Lookout in Koke'e State Park, along the ridge line between Kalalau Valley and Honopu.
It's sometimes a route that hunters use to gain access to the area for hunting pigs and goats.  It's unmarked and not officially maintained.
Since it's an unofficial trail there is also no official length.  Many people hike down a little more than a mile down the trial to see the incredible, panoramic views of the Na Pali Coast and Kalalau Valley.
The trail itself can be very steep in some parts.  It can be very dangerous, especially when wet.  Appropriate footwear and hiking poles are suggested.  The trail runs across the edge of very deep cliffs so always be aware of your surroundings.
You won't see much during the first part of the hike due to the thick brush and trees. Eventually it opens up and you can see Kalalau Valley below you as you hike.
As the red volcanic soil trail leads down the ridge you'll have some amazing views of the valley below. At times the trail is camouflaged by grassy fields where you'll have to relocate the trail when you get to the other side of the field.
As the ridge descends, you'll get better and better views of the Na Pali Coast. Unfortunately, it also gets more and more dangerous as well. Don't go any further than you are comfortable. If you get down far enough, you can look down over Kalalau Beach.
I would allow 2-3 hours to hike the trial. It starts at a little more than 4000 feet in elevation at Kalalau Lookout and approaches 3500 as you get closer to the end of the trial.